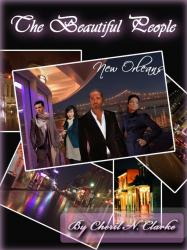 New Jersey based author and playwright, Cheril N. Clarke has a new book coming out this month. I invited her to share about this new project,

The Beautiful People: New Orleans

.


What is the The Beautiful People about—who are they?
The Beautiful People is a six-part, non-traditional short story series that I'm writing this year exclusively for ereaders. It centers on a core group of four friends who love to travel. They meet up in a different city every other month for a weekend of exploration, fun, partying and a much needed break from the daily grind of their careers.


When you say non-traditional what do you mean?
Well, there is no formal plot. There is no lead character who is trying to overcome an obstacle. Every character is important as they all drive the series. And because each installment is set in a different locale, the cities themselves become a character—adding their own uniqueness to the mix. The Beautiful People is an alluring string of titillating scenes. It's not erotic, but it has some steamy moments. It's not a drama, but there will be some spectacles. It's risky, pushing the boundaries of what people consider "normal," "good," "bad," and even "sexy." It challenges stereotypes and reminds us that what appears beautiful may indeed be ugly and what we think is ugly may be deceptively stunning. It's about character and the randomness of life¾our ascensions and our faults.


How is this difference from your previous works?
Aside from what I mentioned above, this is different in that it's the first time I've committed to writing such a long series that, in fact, has the potential to go well beyond six installments if people like it. I would love to have a story set in Shanghai, Johannesburg, Dubai, or Vienna. The Beautiful Peoplereally stands apart because of the possibilities. Unlike any of my previous works, this project will allow me to draw my readers into the world of new, luxe characters as well as exotic locations around the world. It's also more diverse in terms of gender, ethnicity and sexuality, which is…honest, I guess one could say. Its fluid and not a big deal; it just is what it is without apology.


You haven't written a novel in a while, have you abandoned them for shorter works?
I wouldn't say that. Novels are still my first love, but at this point in my life I really just wanted to experiment and go in a different direction with my work. I wanted to do something that was challenging that could also keep up with our ever-changing pace of life. These stories are written for the reader who is using an e-reading device and/or their smart phone. It's good entertainment for the frequent traveler, the mass transit commuter and those who are squeezed for time but miss reading a good story. The installments don't require a large time commitment but still promises to entertain. I do plan on compiling them at the end of the year and offering them in print format, which will have a few new stories. I promise to get back to novels in 2012/2013. :)

What's next for you and when will The Beautiful People be available?
The next five installments! I actually haven't written them yet, but I do know where they will take place: Las Vegas, South Beach, New York City, Washington DC and Atlantic City. At the same time, I'm still working on the screenplay for Losing Control, which is based on my fifth novel of the same name. I'm hoping to move into the production phase of that project this year.
The Beautiful People will be available on February 15, 2011. If one doesn't own a Kindle, Nook, iPad, or Sony ereader, etc., they can still read the stories using Amazon.com's free app for PCs, Blackberries and Android devices.


Thanks for taking the time to chat with me, Cheril.
Anytime, it's been quite the pleasure! We should do this more often.